Destin Parking Lot Striping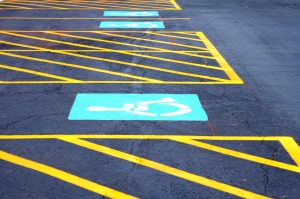 Our Destin Parking Lot Striping team knows that Before stepping foot inside a business, the parking lot has already made its mark. From spacious and organized to chaotic and bumpy, how one initially navigates their way through this maze can set the tone for what's to come.  A smooth sailing entrance is always preferred over an unmanaged mess, as first impressions count in everything we do. We serve Pensacola, Gulf Breeze, Navarre, Fort Walton Beach, Destin, Miramar Beach, Santa Rosa Beach, 30A, Inlet Beach or Panama City Beach
Keep your parking lot in top shape and make it a breeze to navigate with our Destin Parking Lot Striping team. We use bright, durable solution for organized traffic flow that provides everything you need, from clearly marked stalls and arrows to guide drivers at entrances/exits and directional flows on lots. Plus, don't forget about those all-important handicap spaces. Let our Destin Parking Lot Striping professionals take care of this important job by line striping contractors so vehicles park efficiently…and safely too!
Transform chaotic areas into orderly traffic paths, no more navigating around every car like a puzzle. Plus, you can get everything set up hassle-free when you take advantage of our FREE estimates so there are no unexpected costs later on. Choose between spaces for cars, handicap spots, fire lanes or add creative touches like crosswalks and stencils to keep it looking fresh! Reach out to our Destin Parking Lot Striping team today.
Why Do You Need Destin Parking Lot Striping?
Parking spaces
Handicap spots
Fire lanes
Crosswalks
Re-striping
Stenciling
ADA Compliance
Ensuring that everyone has equal access to the same amenities and services is an important part of upholding our nation's values – so when it comes time for a parking lot remodel, don't forget about those ADA requirements! Every 25 regular stalls must include one handicapped-accessible stall with blue & white pavement markings plus metal signage. Let's make sure every driver enjoys easy accessibility and convenience in their home away from home, the carpark! Serving Pensacola, Gulf Breeze, Navarre, Fort Walton Beach, Destin, Miramar Beach, Santa Rosa Beach, 30A, Inlet Beach or Panama City Beach