Santa Rosa Beach Pressure Washing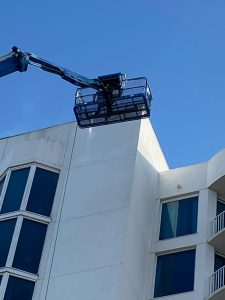 Our Santa Rosa Beach Pressure Washing has been power and pressure washing Santa Rosa Beach since 2016, Beach Pressure Washing has been the best power and pressure washing team on the Emerald Coast. In that time, we've scrubbed nearly every kind of house, office building, condominium complex and pool deck imaginable. Our eco-friendly, thorough approach is top-notch. Along the way, we provide great service at prices that can't be beat. We're used to cleaning up any mess in town.
As we all know, the humidity on the Gulf Coast is very high all year long. When the weather is like this, algae, mildew, and mold grow quickly and on almost every surface you can think of. Roofs, stucco, siding, roads, walkways, wood, porches, and just about everything else are all types of surfaces. With algae, mildew, and mold growing so quickly, it is very important to keep a regular care plan for your property all year long to keep it looking like the day it was built and to keep these growths from doing more damage. If your property goes without maintenance, it could cost you a lot of money in the future, and that is why you should call our Santa Rosa Beach Pressure Washing team as soon as you start to see mold or algae.
Santa Rosa Beach Pressure Washing Services
Our Santa Rosa Beach Pressure Washing company offers pressure and power washing services to residential, business, and industrial customers. These services include cleaning the outside of buildings, cleaning decks and patios, cleaning concrete and driveways, and a lot more. Surfaces like concrete and driveways can get a lot of wear and tear, and over time they can get stained and change color. We can get rid of this buildup and make these surfaces look clean and shiny again.
We use a fully safe and proven soft wash chemical cleaning system to kill algae, wash and treat your stained and infested home or business, which is our own method. This is a safe, NON-PRESSURE, chemical wash that will last 4 to 6 times longer than pressure cleaning. This same process has been used for nearly 20 years and has been proven safe and effective for, cleaning pool decks, cleaning soffits, cleaning gutters, cleaning wood decks, cleaning fences, cleaning siding, cleaning screen enclosures, cleaning tile roofs, cleaning shingle roofs, cleaning wood roofs, cleaning metal roofs, cleaning driveways, cleaning pavers.
Our Santa Rosa Beach Pressure Washing team of highly trained pressure washing professionals use state-of-the-art equipment and techniques to deliver exceptional results for our customers, our reputation and reviews speak for themselves.
What makes us different from other Santa Rosa Beach Pressure Washing companies in the area is that we clean hotels, condos, offices, and buildings with 12 to 15 stories. Most other pressure washing companies don't do these kinds of jobs. We have the knowledge and tools to clean the outside of any building, no matter how big or small it is. With our eco-friendly pressure washing products, our team can clean the siding, windows, and other surfaces of the large building to make it look as good as new.