Destin Pressure Washing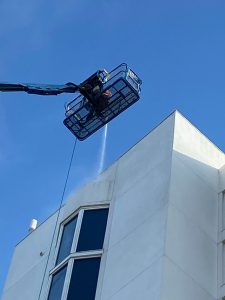 Our Destin Pressure Washing Company has been service Destin since 2016, Beach Pressure Wash has been the Emerald Coast's go-to team for power and pressure washing! In that time, we've scrubbed almost every kind of house, business building, condominium complex and pool deck possible. Our eco-friendly, methodical approach is top-notch, delivering exceptional service with unbeatable prices along the way, we're no strangers when it comes to cleaning up any mess around town!
The Gulf Coast experiences exceptionally high humidity year-round, as we may all be aware. This kind of weather encourages the quick growth of algae, mildew, and mold, which can appear on virtually any surface. The surfaces include driveways, pathways, wood, porches, stucco, siding, and pretty much everything else. With this rapid growth of algae, mildew, and mold, it is very important to keep a scheduled maintenance plan year round for your property to keep it looking like the day it was built, and to protect your property from further damage caused by these growths. If your property goes without maintenance, it could cost you a lot of money in the future.
Destin Pressure Washing Services
For residential, commercial, and industrial clients, our Destin Pressure Washing Company offer a variety of pressure and power washing services, including exterior building cleaning, deck and patio cleaning, concrete and road cleaning, and much more. Surfaces made of concrete and driveways may experience significant wear and strain, and with time, they may develop stains and discolorations. We can remove this accumulation, leaving these surfaces looking clean and bright.
We use a completely safe and effective soft wash chemical cleaning solution to cleanse your discolored and infected house or business while also killing the algae utilizing a patented process. This is a secure chemical wash that lasts 4–6 times longer than pressure washing and is NON-PRESSURE. For cleaning pool decks, soffits, gutters, wood decks, fences, siding, screen enclosures, tile roofs, shingle roofs, wood roofs, metal roofs, driveways, and pavers, the same procedure has been employed for almost 20 years and has been shown to be both safe and effective.
Our Destin Pressure Washing team of highly trained pressure washing professionals use state-of-the-art equipment and techniques to deliver exceptional results for our customers, our reputation and reviews speak for themselves.
What sets Beach Pressure Wash apart from the other pressure washing Destin Pressure Washing Companies in the neighborhood, we pressure wash 12-15 story buildings, hotels, condominiums and offices, most other pressure washing companies don't touch them. No matter how big or little the building is, we can clean the outside with our expertise and tools. With the help of our eco-friendly pressure washing supplies, our staff can remove dirt, grime, and other buildup from the siding, windows, and other surfaces, leaving the large building looking brand new.